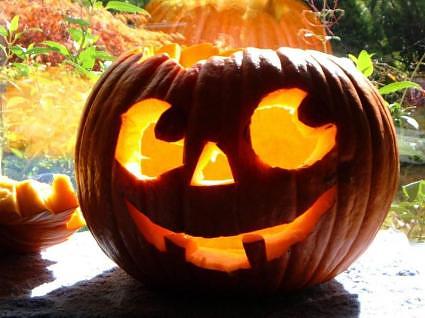 Like many SW Florida residents, October ranks pretty high on my 'favorite months' list.  The heat finally breaks (have you been outside this morning?? WOW), football season is in high swing, and HALLOWEEN is quickly approaching :)
In case you don't know, my wife and I go nuts for Halloween.  It's the one day of the year when we can really, really step outside of ourselves and have a good time for no other reason than that it's just a great time to do it.
Once upon a time, we had great big Halloween bashes.  We've got probably $10,000 worth of Halloween decorations stashed in our attic from our 'little' soirees.  Now we've got little kids and it's just not appropriate, but we still love to get down; now we just have to do it elsewhere.
Here are five great things to do this month in Sarasota that center around Halloween:
The Second Halloween Gala at the Powel Crosley in Sarasota
When:  Thursday, October 31 at 6:30 PM
Where: Crosley Supper Club, 8374 N. Tamiami Trail 34243 (across from the airport)
941-312-0000
On Halloween night, the Crosley estate, Sarosota FL will be transformed into an illusion of another space and time, the House of Usher as told by Edgar Allen Poe. You are invited to become characters of the story line; and Roderick, your host, will guide you through the night time festivities. Upstairs, you may find the answers or experience your own fears. Then dance the night away and enjoy the grand buffets. Exclusively provided by the Crosley Supper Club, a division of Milan Catering. For our Tampa and Bradenton guests, consider ending your Halloween night at the nearby Hilton.

Halloween Costume Party and Contest at the Ivory Lounge
When: Friday, October 25 at 10:00OPM
Where: Ivory Lounge, 1413 Main Street, Sarasota, FL 34236

Frightmares Haunted House
When: October 17-20, 24-27, 29 – November 1 @ 7:30PM
Where: Sarasota County Fairgrounds
Brace yourself! Frightmares Haunted House returns in 2013 to the Sarasota Fairgrounds after 8 years for its biggest, baddest and most extreme Halloween season ever! This year, Frightmares becomes one of the largest haunted attractions in Southwest Florida!
Experience the most unique mix of horror and fun in Florida with ghastly sights, horrifying sounds, terrifying FX and your worst phobias brought to life. The ultimate Halloween experience is at Frightmares Haunted House!
12 nights of blood-curdling screams starts Oct. 17th.

25th Annual Pumpkin Festival
When: Every Saturday and Sunday in October
Where: Fruitville Grove, 7410 Fruitville Road, Sarasota, FL 34240
This family-friendly event features hayrides, pumpkin pie, a giant rock wall, 40′ giant slide, a hay play area, and tons of great food!  Pumpkins are, of course, available for purchase.

Night Of Fun, Fish, and Fright
When: October 18, 2013
Where: Mote Aquarium, 1600 Ken Thompson Parkway, Sarasota, FL 34236
Buoys and ghouls of all ages are invited to dress up in costume for a Night of Fish, Fun and Fright from 6:30 p.m. to 9 p.m. on Friday, Oct. 18, 2013, at The Aquarium.
Sail the spooky seas and discover creatures from the deep in a safe and fun trick-or-treating zone and explore our haunted house, "Dr. Frankin-Fish's Lab of Horrors" (recommended for children 8 and older).
Unearth shark teeth in "Coffin Creek" and enjoy deep sea delights in the "Diner of the Dead." And don't miss our signature underwater pumpkin carving in our spooktacular shark tank!
Cemeterror Haunted House, Benefiting Juvenile Diabetes Research Fund
When: October 18, 19. 25, and 26 7PM-10PM
Where: 2035 Cornell Street, Sarasota, FL 34237
Admission is FREE and donations are accepted for JDRF.
The Cares Outreach Unit will be available October 18 and 19 to do Health Screenings for free.  Certain screenings may have a small fee.
JDRF will be on site to provide information on Juvenile Diabetes.
Our focus is more on a ghostly encounter rather than violence and a lot of gore.  We think that the world has enough of that.  With the use of live actors, props, visuals, sounds and scents, we intend to give our guest's the best haunted experience.
Our goal is to bring in a high donation amount for the research of Juvenile Diabetes and a cure.
For more information see our website:  Cemeterror.com
.. And Now The Real Reason You're Reading!
Christmas lights – they're sooo overdone.  Here's a guy from Riverside, California who REALLY knows how to 'light it up':

Interested In Buying or Selling?

When you hire Alex Krumm at Re/Max Alliance Group, you'll get an award-winning expert agent ready to work for YOU!  I'm in the top 2% of active local agents for homes sold and I'm used to selling more homes for more money in
less time.  Put the benefit of our area's #1 brokerage to work and call today!
Alex Krumm, GRI, CDPE
Broker Associate, Re/Max Alliance Group
SAR Professional Development Committee
4-Year Winner, Five-Star Best In Customer Satisfaction – Sarasota Magazine
941-234-3597 Direct
srqbroker@gmail.com
---
---